2023  Joint HL7 Australia & HL7 New Zealand webinar – Mark your calendars!  
Follow us on Linkedin to get the latest update when we update more speaker information.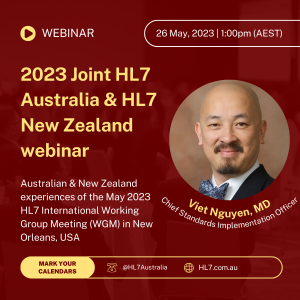 Save this webinar link into your calendar: https://hl7-au.zoom.us/j/85458435456?pwd=dlRFM0FnUFhDdHUxdGMrY1dHdEZMUT09
The purpose of this free webinar is for HL7 AU & NZ members and interested individuals to hear from the Australian and New Zealand delegates attending the 7-12 May 2023 HL7 International Working Group Meeting in USA.
We are also delighted to welcome again Viet Nguyen, HL7 International Chief Standards Implementation Officer on the panel.
HL7 International holds its working group meetings (WGM) three times per year. The May 2023  meeting followed a new format by including international standards and global healthcare organisations such as World Health Organisation as part of HL7's mission to strengthen its global relevance and influence. In addition to providing up to-the-minute strategic updates, the aim of these WGMs is to provide the opportunity for work groups to meet to work on standards via the more than 40 work groups dedicated to specialised areas such security, pharmacy, and patient administration.
Friday 26 May 13.00 AEST (15:00 NZST)
1 – 1.5 hours
Agenda
Welcome Reuben Daniels, Director, HL7 Australia
Speakers:

Viet Nguyen : Chief Standards Implementation Officer, HL7 International
Peter Jordan : Affiliate Director, HL7 International
Grahame Grieve : FHIR Product Director
Reuben Daniels, Co-Chairs Terminology Services Management Group & Vocabulary Work Group
John Grimes : Health Data Engineer, CSIRO
Liam Barnes: Senior Experimental Scientist, CSIRO
Sarah Gaunt: Senior Information Analyst at Lantana Consulting Group
Brian Postlethwaite (TBC):
John Carter: Chair, HL7 New Zealand

Questions and Answers from attendees to speakers
Close: John Carter, Chair, HL7 New Zealand